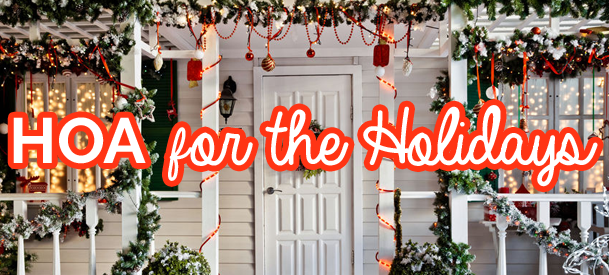 Being home with our loved ones is a way to celebrate family, friends, and the successes of the year. As we gather in family homes, decorated for the holidays, the role of our HOA's might become more apparent, especially when it comes to enforcing the rules.
Some of the things we love most about the holidays are also some of the best parts of living in an Homeowner Association, namely, a sense of community and belonging, neighborly consideration, and common purpose. This holiday season, let's enjoy our family and friends through traditions and celebrations, and enjoy our communities by being good neighbors. Keep a few things in mind as you host festivities in your homes:
Parking – Nothing puts a damper on holiday fun like having your car towed for improper parking. Make sure you and your guests are aware of parking restrictions. In most cases, street parking is a function of city code, the HOA Board is tasked with enforcement, though. If you aren't sure, ask a Board member, read your CC&Rs, or consider it a safe bet that if there is no sidewalk, street parking will be restricted by city code.
Sound – Any loud noise can be considered a nuisance. Whether it's your drunk uncle after too much egg nog, the music your holiday lights are set to strobe to, or your dog incessantly barking the "Jingle Bells" tune, a nuisance that gets reported to police or the HOA Board could ruin your party or even incur fines.
Decorations – Many HOAs hold holiday decorating contests with prizes for the most festive residents. While decorating your home is a fun tradition, forgetting to take things down soon after the holidays might be an eyesore for neighbors or result in fines.
eUnify property management software is great for HOA's in bringing the community together via eUnify's resident portals and uManage assists in property management companies and community managers with violations (those eyesore holiday decorations in March), work orders and ARC requests. Learn more about why eUnify the choice of associations and management companies nationwide.