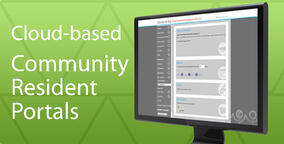 Homeowner community resident portals offer valuable conveniences to residents, such as online payments, easy access to forms and documents, and announcements, among others, but the resident portal should be more than a convenient tool, it should be about building an online community. Portals provide the platform to communicate, collaborate, and build community. Here are 3 tips to make your resident portal a place where homeowners gather.
1. Inform
Aside from simple conveniences, offer homeowners helpful external links to civic services, nearby restaurants, and local news. Post content related to schools, changes in laws and ordinances, and seasonal information. Make the portal a place of information and education for association residents.
2. Interact
Use the resident portal to set up online surveys and polls to get a pulse on neighborhood opinions, but avoid hot-topics, such as politics, as these might be divisive. If you allow for open forums and discussions, be sure to lead the conversation, and moderate posted content to weed out trolls. Engage homeowners with periodic eBlasts filled with helpful information. For example, you could give residents a head's up prior to an upcoming inspection and help reduce compliance efforts. Use communication tools to foster positive interaction between the board and other residents.
3. Influence
Homeowners likely receive scarce correspondence from their HOA board or management company, and, more often than not, correspondence might carry a negative tone, such as "you're being fined for a messy yard", or "we've added late fees and interest to your unpaid assessments". Use the portal to exert a positive influence in the community. Set up a monthly spotlight announcement or article, praising the best maintained home for the month. Organize and promote community charity events, or hold a "painting party" to freshen up common area walls and fences (without imposing a special assessment). People feel good when they contribute and homeowners are more likely to value the association when they work alongside the board in meaningful efforts.
Tags: Software Property Management resident portals Community