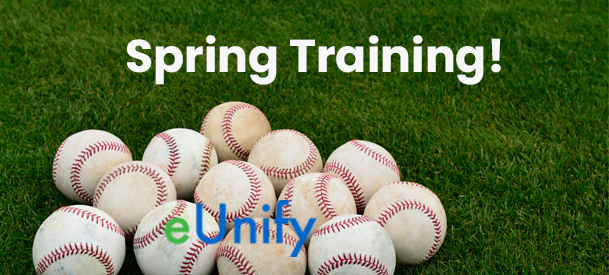 Living in Arizona, this time of year is about insanely gorgeous weather, a palpable anticipation of snowbirds leaving and traffic thinning out, and of course, Spring Training! I'm not a huge baseball fan myself but living just a few miles from where the Chicago Cubs play, even I make it to an occasional game. In the spirit of this springtime tradition, eUnify is working hard to get you ready to handle busy upcoming pool, budget, and other seasons this year. Our version of Spring Training is taking shape in the following key ways:
Growing Our Team
We recently recruited four additional players to the eUnify team. These four come from a community association background and have excellent working knowledge of accounting, association management, and software systems. We're excited to have these new team members and looking forward to what their contributions will mean to improving customer support and training efforts.
Hosting Webinar Series
We have begun a monthly webinar series, typically scheduled to occur the week after a regular system enhancement release. Our continual deployment approach to improving the system with bug fixes and new features means we are constantly improving, but it sometimes means that you don't always know what new tools are available for you to use in the system. Aside from our release notes that accompany these regular releases, the monthly webinar will be designed to demonstrate new features in action. We are also developing upcoming webinars that will serve as refresher courses on some of the existing functions, with sessions dedicated to accounting and to operations. Email notifications are sent out to all clients regarding upcoming webinars, and this information will soon be visible within uManage.
Updating Online Help Tools
With our growing numbers, we are dedicating new team members to overhauling our existing online help documentation and fleshing out a more comprehensive online manual. Our goal with this updated resource, coupled with the webinar series, is to provide easy self-help access to answer your questions and ongoing education about the latest and greatest in eUnify's systems.
Creating Online User Group
As much as we are able to do through responsive customer support, educational webinars, and online manuals, we understand that sometimes people learn best talking to peers engaged in similar work. We have created an online user group for eUnify users. This optional forum allows you to interact with other eUnify users across the country in a forum format. The idea is for users to share hints, tips, and tricks they've learned using eUnify software in their respective businesses. Contact us if you are interested in joining this new online forum.
We are committed to helping you and your team succeed!
Tags: eUnify eUnify Team