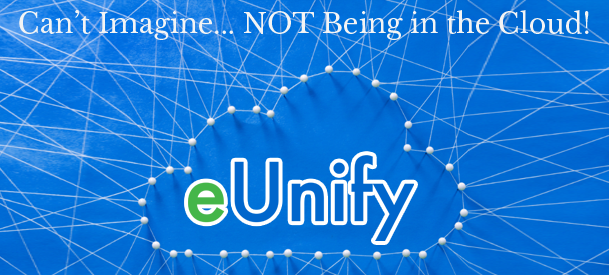 One eUnify client provided this feedback: "I can't even imagine not being in the cloud, all this would have been so much harder on our old system!". Crisis shows the cracks in everything; cracks in society, systems, and services. Inequities and inefficiencies are made worse under the added stress of crisis. Businesses without the right infrastructure and software were forced overnight to figure out workable solutions. All of us in the HOA industry perform essential functions that keep neighborhoods safe and operating smoothly. For our essential work, being in the cloud is, well, essential, and here's why:
Safety
For cloud-based systems, the codebase and your database are centralized with a provider. You outsource all IT functions related to the system to one team whose primary expertise and vested interest is in maintaining the system. As a provider of cloud-based software, eUnify makes you safer by keeping fully redundant copies of data in real-time, storing complete backups nightly, and strictly adhering to disaster recovery best practices. Disaster takes on many forms, such as flood, fire, hardware failure, …. or global pandemic. The term "safety" takes on new meaning in this COVID-19 era. Part of the safety eUnify provides in its cloud-based systems is the ability to keep physical distance without sacrificing productivity.


Security
Cloud computing with eUnify is much safer than a local office server and network setup. We encrypt server traffic as well as sensitive data in the database, programmatically block IP addresses originating brute force and other attacks, and enjoy strict biometric security measures used by Amazon Web Services to limit physical access to servers.


Scalability
Cloud-based systems offer effortless scalability as your business grows. No matter how many clients eUnify gains, or how many associations those clients represent, CPU and other server resources are added instantaneously by eUnify developers managing Amazon Web Services accounts. In-office servers do not offer this level of flexibility, speed or ease of implementation, or cost savings.


Stability
With a guaranteed uptime of 99.999%, rigorous testing, and regular bug fixes, eUnify provides a solid foundation for your company's success. The singular codebase in our cloud-based setup means that any bug fixes and feature enhancements are automatically and immediately applied for you.


Savings
Because eUnify operates at scale and offers an outsourcing of IT needs, you save big on hardware and IT vendors. Imagine not having to sink thousands or tens of thousands of dollars into hardware or IT personnel/vendors. None of your time or money goes into system maintenance, updates, or technical troubleshooting. Use the savings to hire more staff and leverage the system to service more client associations. Converting sunk costs into HR investments or marketing efforts helps you see a quicker ROI.


Accountability
Working from home presents unique challenges to measuring productivity. Some people are better than others at managing the myriad distractions at home during the workday, and let's be honest, some can't resist the temptation to slack off. eUnify's uManage platform includes audit logs, a timekeeping function, and new reporting that lets you drill into activities by user or by association. See how many notes, violations, work orders, tasks, or letters are produced by each user each day. Along with the availability of phone integration to track time on calls, these reports help keep your team accountable.


With all these benefits, can you imagine not being in the cloud with your next software move?
Tags: HOA cloud COVID-19 work from home