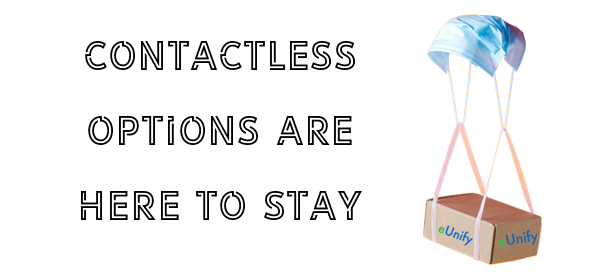 One important word has come to represent a new standard in business operations, "contactless". Food service have evolved to minimize person-to-person contact by offering sealed takeout packaging, contactless delivery, and curbside pickup. We often hear experts and local leaders state we are safest at home, and as many of us stay home more than ever before, it makes sense that the communities in which we reside are also considering ways to adapt to this new reality. eUnify is constantly evolving to address industry needs. Here are some of the ways we are helping you provide contactless service to your communities.



Contactless Meeting Check-in:
Now that so many meetings are being held virtually, it can be tricky to keep track of attendees and whether quorum requirements have been met. For example, several members of one household might be logged in separately for the meeting, but they still only account for one community member when tallying for quorum. While most virtual meeting platforms allow attendees to pin their name and email to the call, there isn't any way of guaranteeing everyone is identified properly, or that non-members aren't dialed in. To resolve this problem, eUnify has enhanced its Meeting Check-in function to allow for contactless sign-in via QR code. Since the code is uniquely generated by uManage, you have control over who see it. Display this code onscreen in your virtual meeting, or post it at the meeting location if you are still conducing in-person meetings. Homeowners scan the code from within the CommunityLink mobile app and are logged as attendees for the meeting. Since the mobile app user logged in is tied to a homeowner account, the system tracks which members are present, and doesn't double count attendees from the same household. When in-person, use of this contactless method helps maintain physical distancing and prevents the need to sanitize the community tablet or laptop between signatures.


Contactless Payment:
Convenience was always a selling point for online and lockbox payments. With the health crisis, many communities are scrambling to offer residents both the convenience of these payment methods, as well as the added safety inherent to going contactless. eUnify is proud to partner with Zego, Alliance Association Bank, CIT Bank, Pacific Premier Bank, Union Bank and more being added soon. Through eUnify's CommunityLink portal, homeowners can pay assessments through seamless single sign-on (SSO) integration with Zego, which eliminates the need for redundant logins, and handy links to banking partner payment portals. Homeowners can also send in check payments to a banking partner's lockbox. eUnify clients using the full accounting package, or select accounting integrations, will see these external payments settle to homeowner ledgers automatically.


Contactless Resident Requests:
CommunityLink also helps facilitate communications with homeowners in a contactless environment. Homeowners and residents can submit requests to management through this two-way communication module of customizable forms. Resident Requests serves as a ticketing system to help you keep track of questions, feedback, and requests in one centralized place. Requests submitted through this system can be easily converted into Passes, Tasks, Violations, or Work Orders. Management can respond in-line with the Resident Request and the submitting resident sees a record of management's response in the portal.


Contactless ARC Plan Submission:
Homeowners don't have to visit the management office or a Board Member's home in-person to submit an architectural change request. eUnify helps minimize the need for these in-person interactions and handling of stacks of documents through an ARC submittal and review process that lives online. From the CommunityLink portal, homeowners fill in form details about their requested modification and upload all relevant forms and documents. Management receives notification of the upload and reviews the plan for completeness. After passing management review, the committee is notified of a new plan for review and voting, which all takes place online. Once the committee votes the plan up or down, the system sends a letter to the homeowner with the results.
Tags: HOA architectural reviews community link work from home payment resident request