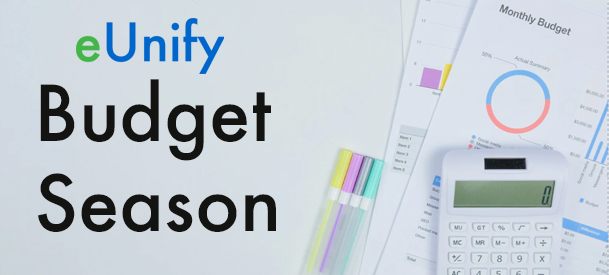 With the Summer Solstice, the official start of summer, just a few weeks away, it may seem early to think about, but along with the summer sun looms another budget season on the horizon. Budget season is an excellent time to reflect on the past, consider community needs in the present, and look to the future. It's also a busy and often frustrating time for managers and Board Members. It's never fun or easy to produce an association budget, but the right tools can make the process much less daunting. eUnify has been busy creating functionality to help you through the research, planning, and presentation phases of the upcoming budget season. Before you can crunch any numbers in a new budget, you need to review how the budget from the previous year held up in the real world. Scrutinize every line item to find the shortfalls and address them. If there are any line items that were previously over-budgeted, these should be reflected in the new budget as well. To help make this research task easier, eUnify has created a "Budget Worksheet" function, which allows you to export an existing budget from the uManage platform into an Excel worksheet. This is more than just the raw data, as the worksheet is designed to preserve necessary calculations; as you update individual cell values, subtotal and total cells are automatically updated. Not only does this help review the performance of the previous budget, but it makes modeling the new budget easy by plugging in updated numbers into the worksheet. Once you have reworked your budget for the upcoming fiscal year, you can import the worksheet back into uManage to create the new budget.
As you consider the details of the new budget, you need data, which includes financial reports from previous periods. Aside from the host of reports formatted to be Board-friendly, eUnify offers another set of analytical tools critical to the success of your budget. We've built a series of "analyzers" that provide interactive reporting in three main areas of focus: 1) Activities, 2) Time, and 3) Expenses. These are extremely helpful in all budgeting phases (research, planning, and presentation), as they provide valuable insights into actual money and time spent and can be made available for Board Members to keep track of financials. Boards love how the analyzer displays and how easy it is to consume financial information in a more visual form.
Activity Analyzer: This tool is intended for management company use to keep track of who is performing which tasks or activities within uManage.
Time Analyzer: Track the time spent by user and by activity to help gauge both productivity and profitability as you gain visibility into how time is used by each member of your staff.
Expense Analyzer: An interactive pie chart that allows you to drill down to specific line items and view roll-up categories of expenses within a date range. This view of actual expenses keeps Board Members informed with a clean graphical presentation of budget performance from month to month.
Get ahead of budgets this year with better data, better reporting, and easy to use worksheets available with eUnify.