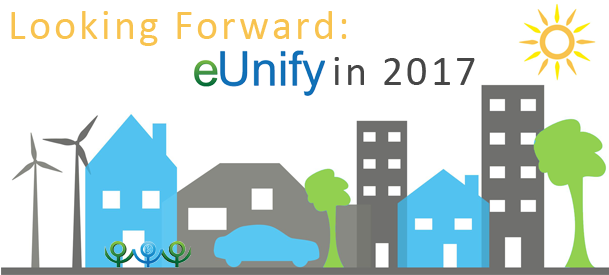 Thank you to all who have joined the eUnify family in 2016, and years past. We appreciate your support and all of the valued input that has helped to determine our ongoing list of enhancements. We're applying the "new year, new you" idea to eUnify's products in 2017 by reaffirming our commitment to continual improvement. Here are some of the exciting developments to expect in the coming weeks and months:
Resident Portals– New Look and Feel:
We are in process of revamping our homeowner portals to give them a more modern, updated look. Part of this update is to tie portal functions more closely to uManage, our management platform, giving managers and staff easier access to portal administration and customization tools. We are also looking into making the Resident Portals into a true mobile app, enabling push notifications to homeowners, online payments, and association information lookup from any Android or Apple device.
Request for Proposal Module:
We are putting finishing touches on a new module in uManage to handle a Request for Proposal (RFP) process, whereby you will be able to request bids from vendors on specific projects for the associations you manage. This makes the notification and awarding of jobs easy while keeping track of your due diligence in getting varied bids. This tool will facilitate the sending of requests to specific vendors and include a submission tool for vendor responses to requests.
Feedback Tool:
We are developing a tool for use in the Resident Portal for your association board members to offer active feedback on your services. This will help you keep a pulse on customer satisfaction and assist in client retention by taking a more proactive approach to client relations.
Board Discussions:
We are building a discussions platform in the Board Portal so that board members will be able to engage one another and community managers in discussions regarding the community.
Delinquency Processing:
We are enhancing integrations with existing integration partners and building a new letter-generating module into uManage, which will allow for you to create and send delinquency letters to homeowners based on delinquency statuses flagged in your accounting system. Delinquency status can also be set manually in uManage for any account, so users without accounting integration will still be able to enjoy the convenience of giving homeowners fair warning before handing files off to the attorney for assessment collections.
appLega Integration:
appLega provides applications to law firms in the HOA industry. Its flagship product, HOACollectTM, is a case management system for delinquency and covenant violation matters. eUnify users enjoy the benefit of integrating accounts and ledgers with attorneys using HOACollectTM. This means synchronization of ledgers, automated export and setup of new delinquency accounts in the attorney's system, and better reporting and transparency for boards and managers. Ask your attorney if they use HOACollectTM, by appLega (more information at www.appLega.com).
This is just a snapshot of what's on the board for 2017. We have a host of new features, functions, and fixes that will be rolled out every two weeks. Our biweekly deployment of new items and reliance on customer input means eUnify is continually evolving and improving.