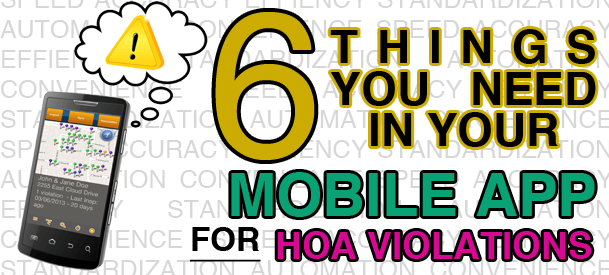 1. SPEED

Some mobile solutions run on mobile browsers, requiring a constant 3G/4G connection, which uses a lot data. These tend to run slower and are less robust than true mobile applications. Look for an application that saves inspection data locally on the device to increase speed and avoid problems associated with loss of internet connectivity.
2. ACCURACY

Mobile apps available via the Apple Store or Google Play Store undergo thorough testing and therefore are generally better quality (and more trustworthy) than applications downloaded from another source.
3. EFFICIENCY

4. STANDARDIZATION

Basically, anything that can be standardized can be automated. Mobile property management apps should make use of standardized notes, references, and linked notification processes to help automate core functions.
5. AUTOMATION

6. CONVENIENCE

You want a mobile app that works on a variety of devices so you don't have to go out and buy the latest tablet for your entire staff. The app should also work if the data connection drops so data is not lost or efforts duplicated. For convenience, it is important that the app you choose is intuitive with a clean, simple design to reduce training and support time, and that it displays all of the information you might you want to see when on property, such as open violations, work orders, architectural requests, account notes, or community gate codes.