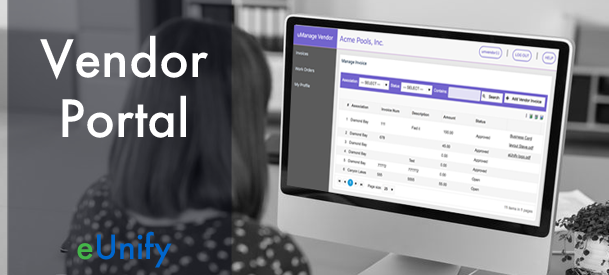 Vendor management means keeping track of a lot of moving parts, especially for larger management companies, who might work with a thousand or more vendors across hundreds of associations. The Work Order system and vendor database built into uManage have helped many management companies maintain vendor information and streamlined vendor interactions, but we've taken things a step further with a new dedicated uManage Vendor Portal. This is a space just for vendors and includes these valuable tools:
Invoices:
The uManage Vendor Portal allows vendors to search through existing invoices and look up the status for each (open, approved, not approved, paid). Vendors can also create new invoices, complete with date, invoice number, invoice amount, description, and file upload fields. When new invoices are added for an association, the property manager is alerted via email notification and is able to view the invoice in uManage and either accept or reject it. If rejected, the invoice is returned to the vendor, along with manager notes explaining why the invoice was returned. If accepted, the invoice is pushed into the uManage payables system (if the management client is using the uManage Accounting platform), and can be pushed into the Board Portal for the association's Board of Directors to approve.


Work Orders:
Work Orders created in uManage and assigned to the vendor are readily available for view on the uManage Vendor Portal. These are organized and searchable by association and status, and each Work Order record contains all the detailed information added in uManage, including any uploaded images or documents. The form created in uManage by "Printing" the Work Order, which managers can customize and brand, is also available to download and view from the Vendor Portal.


My Profile:
Vendors can update their contact information, including name(s), address, phone numbers, and email addresses. Changes made by vendors to their profile information are synced back into the uManage vendor database automatically, eliminating tedious data entry for managers while helping to guarantee that vendor contact information is always up-to-date. Vendors can edit their tax ID, add new company contacts, and manage insurance and other documents on file with the management company. "My Profile" also displays the list of associations for the management company that a vendor is contracted to do work for, and the types of work orders they are set up by the management company to perform. Vendors can even customize the main and accent colors used on the site to tailor the portal experience.


Vendors:
Each vendor maintained in uManage can be given access to a unique vendor portal designed for easy lookup of assigned work orders. Vendors can add notes, mark work orders as completed, and send invoices to the management company. The portal also enables vendors to update contact information, and upload 1099s and insurance documents. Updated phone numbers and email addresses and all uploaded documents sync with uManage to simplify vendor management. Each vendor can even customize the color scheme of their portal to match their company colors.
Contact us to learn more about vendor and work order management in uManage.
Tags: uManage vendor portal