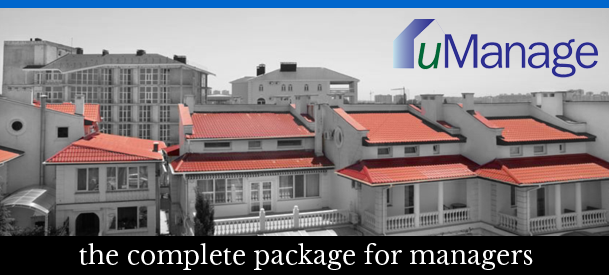 uManage is the complete package for managers.
uManage lives in the cloud, so there's nothing to download or install, and you don't have to worry about backups or disaster recovery.
All you need is a browser and an internet connection to access and maintain all your accounts.
uManage also includes a mobile app for Apple and Android devices and even works in offline mode. Check out some of the core functions below:
VIOLATIONS
Capture and track violations while onsite, complete with photos and notes

Create customized violation processes for each of your associations

Display routes for inspectors with GPS technology
Track and confirm completion of inspection work
Send violation notices via email or USPS
Outsource the printing and mailing of violation letters
Electronically track certified mail.
Automatic letter and email generation with violation entry
Mobile app saves data to device and automatically syncs with the server
Auto-post fines to built-in ledger or export to integrated accounting
WORK ORDERS
Create new work orders while onsite, complete with photos and notes
Capture common area and unit work orders
Assign work to vendors while on property
Automatically email work order to assigned vendors
Create lists of internal resources or external vendors by trade for easy assignment
Dispatch via email or SMS; personnel or vendors do not need smartphones to receive a dispatch or log work order progress
Gather metrics on outstanding and completed work orders
ARCHITECTURAL REVIEW
Create and manage customized letters for approval steps
Track progress of architectural changes
Set up automatic notifications and automatic approvals with custom deadlines for critical events.
Automate the generation and sending of approval/ denial letters and emails
Managers can view ARC requests during inspections on mobile devices
Homeowners can submit ARC requests online
ARC committee can collaborate and vote online
REPORTING
Organize and streamline management reporting
Provides a consistent look and feel for all your management reports
Create sections to be included in the monthly management report by association
Automatically pull in data from uManage such as violation and work order reports
Include external files such as bank statements and financials
Client activity reports are visible within the board portal
All historical reports are maintained and accessible
ACCOUNTING
uManage includes an optional built-in accounting system!
Full AR/AP/GL functions, banking integration, statements, and delinquency processing
All-in-one system option for accounting, management tools, and portals
MOBILE MANAGER
Enter violations, submit work orders, and view pending ARC requests from any Android or Apple smartphone or tablet
View violations and work orders on a map along with your current location
Easily toggle between map and list view
Color-coded pins make it easy to see open violations and work orders
Filters automatically adjust based on work progress so you'll know if you missed a street
Complete mobile tasks even with spotty or no internet coverage -uManage saves data locally, so internet connection is never a problem
Advanced mapping capabilities allow managers to customize their map look and feel
Provides visibility to community-level facts and board members
Access homeowner ledgers directly while onsite
VENDOR MANAGEMENT
Maintain a database of vendors and related documents
Issue 1099's to vendors with built-in accounting functions
Assign work orders to vendors and send automated work order emails
Create Requests for Proposal for association projects and manage bid responses
Import vendor lists from external systems
eVOTING
Set up and manage multiple elections and ballot measures
Manage the election to meet the quorum
Include candidate bios and pictures
Anonymously track the progress of the election
Send reminder notices to owners who have not voted
Support online and paper balloting
Seamlessly integrate with your eUnify homeowner portal
Reduce paper, printing, postage and labor costs
PORTAL MANAGEMENT
Manage all aspects of your eUnify CommunityLink portals in uManage
Access the Brand Management Console to edit and update portal settings
Manage master accounts
Manage notification messages
Copy community attributes
Manage board portal features and attributes
Find homeowner and board member logins
There are many more! Download the free eBook for complete list and descriptions of ALL the great functions of uManage.
Tags: Software Property Management Mobile App uManage HOA Violations