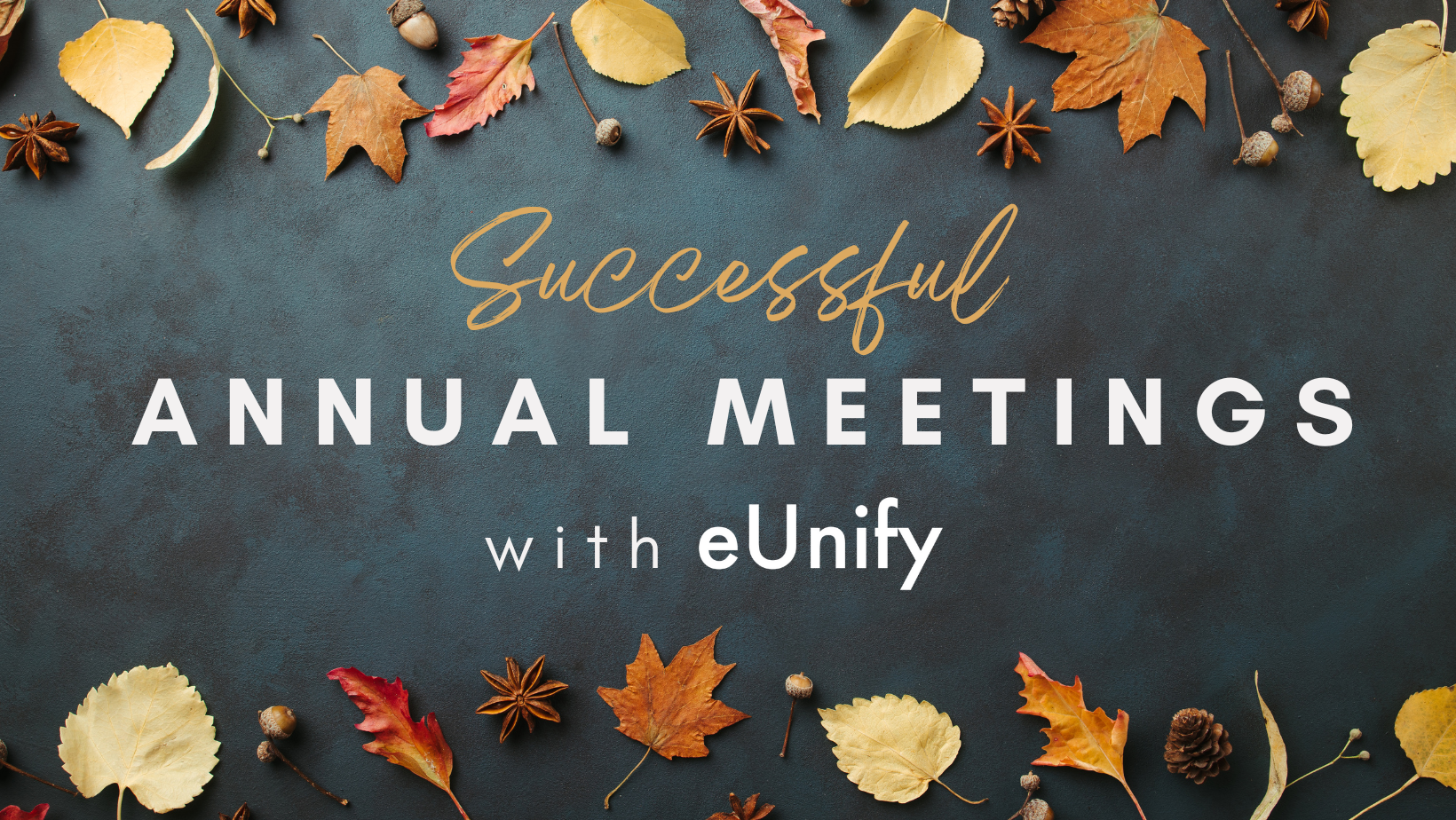 As the President of my HOA, I have spent the past several weeks preparing for the annual meeting of the association. If your community is on a similar schedule to mine, you are probably in the thick of meeting preparations. Allow me to share how I have used the tools eUnify has to offer in preparing for and conducting a successful annual meeting and consider how you might use them in your own community associations for future meetings.
Getting the Word out:
Once the date is set for your meeting, you need to provide formal notice to association members. The number of days in advance of the annual meeting that notice should be given is a matter of open meeting law and could differ from state to state. Consult your governing documents, community association manager and/or legal counsel to make sure you don't miss crucial deadlines to provide notice. I used the eBlast function in uManage to send out email notice to all members a full month ahead of the meeting, and posted the date, time, and location as an event on our CommunityLink portal. For the less tech savvy in the community, we always post meeting notices to a central bulletin board in hard copy, as well.
Getting the Annual Packets out:
Spend some time planning the content of your annual packet. This is an important communication to association members and is one more likely to be read since it contains the ballot for the Board election. I like to start with a cover letter that announces the upcoming meeting details and covers topics of popular interest. Last year, we had quite a few architectural requests submitted and questions regarding our newly adopted enforcement policy, so I included copies of the revised architectural guidelines and covenant enforcement procedure. Having recently contracted with a management company, we have received a lot of questions regarding the roles of our manager and of Board Members, so this year's cover letter was dedicated to clearly defining the duties of each and describing the process by which our members should voice questions and concerns. What are some of the common issues or hot topics in your community now? Consider addressing these in the cover letter.
The rest of the packet should include the budget for the upcoming fiscal year, a ballot for the election, and maybe brief candidate bios to help members know a bit about who's running. If you are using eUnify's accounting platform in uManage, creating the budget is a built-in accounting function.
You could be handling many separate documents that comprise the packet. eUnify allows you to upload multiple documents to be assembled as a packet for mass mailing, or you can combine these prior to upload. I like to combine the cover letter and ballot into one document and attach the budget and any other materials as PDFs. eUnify supports mail merge functionality in mass mailings, so you can include recipient homeowners' names and addresses on the ballot, or other variable data points in the letter.
Mailing the packets is simple because you can completely outsource the printing and mailing to eUnify's fulfillment vendor. Create your mass mailing in uManage, complete with any attachments, select the recipients, and hit send. All you need is enough money in the postage account to cover the mailing and it's on its way! I love that I never have to touch the paper or deal with a printer (I have terrible printer karma) to get this important and sometimes lengthy packet out!
Conducting the Meeting:
This is the part where things get interesting because getting everyone signed in, settled, and starting the meeting on time can become chaotic. eUnify helps you streamline meeting sign-in with online check-in via QR code that you can post at the venue's entrance. You can also make use of electronic sign-in on a tablet with members looking up their name or address and signing with a finger. Members can go to the CommunityLink mobile app and designate proxies. There's also space in the app for members to indicate ahead of time their intentions regarding in person attendance, which could help you plan for seating and time needed for an open forum.
To recap, you can make the logistics of preparing for and conducting an association's annual meeting a breeze with eUnify. Send eBlast notice of the meeting, post an event and announcement to the portal, use the mass mailing function to assemble and outsource the mailing of your annual packet, and give members the convenience of signaling interest in attending the meeting, as well as assigning proxies via the mobile app, and use online or finger signature check-in. If you really want to step up convenience, look into e-Voting with eUnify.