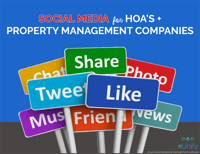 I
n an earlier blog post, I discussed types of social media your HOA or Property Management Company should be using. Twitter, Facebook, LinkedIn, YouTube, NextDoor and Instrgram are several platforms to be utilized.
Social networking is a great way to share information as well as
build an active online community. So Now what?

Now What?... Make a Plan!
It's a good idea to make sure you have a plan in place. What are your goals? How much time are you going to spend on social media platforms? Who will have control of posting? Here are some things to consider:
Establish an administrator or multiple administrators to share the responsibilities of regularly monitoring the social media accounts.
Be active! Maintain your social media site with current posts, pictures and videos. Share tips, stories or interesting and relevant blog posts.
Follow the Golden Rule - Treat everyone with professionalism and respect.
Create a social media "policy" which will act as a set of rules and guidelines and be sure to post a disclaimer giving your HOA the right to remove inappropriate content.
Set up privacy controls to review comments or pictures before they are posted.
Whether you decide on one social networking platform or multiple, the main takeaway is to connect with homeowners, share information and promote community. Take advantage of this growing trend, social media is here to stay!
Tags: Property Management HOA