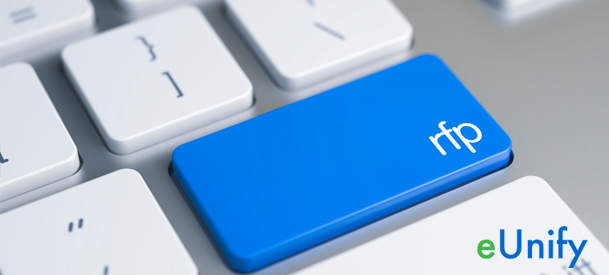 State law and/or association governing documents might require that you get multiple bids on all common area projects. Getting numerous bids keeps you in compliance with these rules and helps ensure a fair process, not weighted by favoritism. Projects that fall under the purview of board members and association managers require due diligence in vetting vendors. Management companies typically work with a list of preferred vendors, but numerous bids are should be sought to get the best vendor, price, and final result for a project.
eUnify Does RFPs
eUnify's Request for Proposal 'RFP' system is built into the uManage platform. With the uManage RFP system, you can easily send proposal requests to your vendor list. You set the scope of work, due date, and proposal requirements. Vendors are emailed the RFP details and provided a secure link through which a proposal can be submitted for consideration. Management conducts an initial review of proposals for completion and board members get to vote up or down on each bid, awarding their project to the vendor with the majority vote.
Why Use eUnify for RFPs?
Standardization – With eUnify, one job with the same details and parameters is submitted to multiple vendors. As managers review submitted proposals, they can verify that the full scope of work has been addressed. Vendors can submit supplemental proposals before the set deadline in case they missed something in the first submission.


History – When it comes to complying with statute and association guidelines, it's always a good idea to document history. Managers and boards should be able to prove that they took the proper steps to vet vendors for a project. Using the RFP system in uManage means you have full history saved in a secure but accessible space.


Automation – Automated processes replace endless emails between managers, boards, and vendors. Various notifications alert everyone to key developments in the lifecycle of an RFP. Vendor proposals, complete with uploaded documents, are automatically tied to the RFP in uManage.


Nothing to Install – Vendors and board members do not need to install anything to participate in the RFP process. uManage and the Resident Portal are cloud-based, providing instant access to managers and board members with the use of only a browser. Vendors have it even easier, they don't even need login access to submit a proposal.
The RFP system is just one of many powerful tools in eUnify's product suite to take association management online and in the cloud. Download the complete uManage features below.