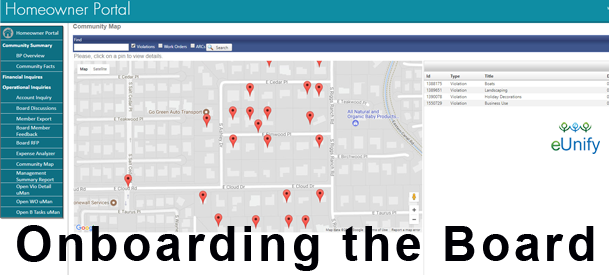 You might be thinking, "New Year, new me" in 2018. If part of what's new for your in the New Year is election to your HOA Board, or a new career in HOA management, there will be a learning curve related to all the new tasks in your new position. Whether you're a new board member or property manager, your concerns will be focused on efficiency, communication, transparency, and understanding the metrics that paint the picture of how the association is doing. Board members need to be in the know to fulfill their duties, and rely on managers to present all relevant information for their decision-making. The eUnify Board Portal is a valuable tool in addressing all of these areas of focus in the following ways:
Efficiency:
The Board Portal lives within the Resident Portal, a portal within a portal. The concept sounds cooler as Inception's "dream within a dream", but it's still pretty cool that board members have only one access point and set of login credentials to get to important information quickly. Board members, by virtue of assignment to board member roles in the system, are granted controlled access to privileged portal content, including live financial and operations reports, as well as custom manager-produced interactive reports.
Communication:
Boards can enjoy the benefits of standardized communications with managers through portal by consuming report information, submitting request tickets to managers, and engaging in discussions on architectural plans and other activities. Board members also have increased communication opportunities with the community at large through eBlast options, and fast access to a member directory and account lookup.
Transparency:
By standardizing communication channels through the Board Portal, tied to specific activities, such as RFP and ARC review, managers and board members can improve the quality of communication while preserving histories of due diligence and decision-making. If ever called into question, these histories will demonstrate the efforts, intentions, and results of board members' work. The Board Portal also opens a clear view of the property manager's work to board members. It's been my experience serving on the board of my self-managed association, and therefore needing to fulfill both property manager and board duties, that board members and property managers do a lot of work that is unseen and under-appreciated. Utilizing the Board Portal makes it easier for boards to see what their managers have been doing for the association.
Metrics:
What percentage of the community is rented versus owner-occupied? How many open covenant violations are there, and what are the predominant categories of offenses? What number of architectural plans have been received in the past month? Is the association delinquency rate above 10%? How many days on average does it take to respond to a complete work for maintenance requests? As a board member or manager, you should know these and other metrics for the association. Managers likely have a pulse on the community's basic metrics, but how is that information relayed to boards? Reporting in the Board Portal provides a self-service, interactive view of what's going on in the community in terms of work orders, violations, architectural plans, tenanted units, and financials. An impressive community map view makes it easier to see which accounts have violations, work orders, or ARC plans; you might not remember an address but remember seeing the wrong paint color on a garage at that one house on the corner. If tied to the accounting system, the Board Portal gives live reports of budgets, balances, bank accounts, and expenditures.
Overall, the Board Portalis designed as a window on management to supply valuable information so boards can be confident in their roles as decision-makers for the community. Life is easier for boards and managers when everyone is onboard with association activities and trends.