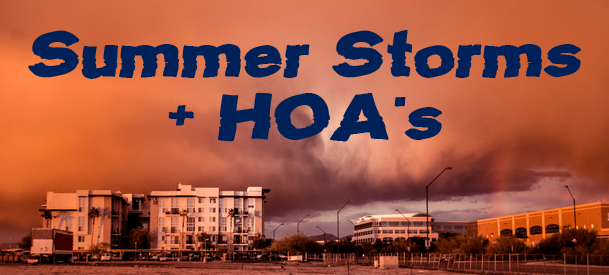 A version of this article was first posted in July 2019. Here is repost again in preparation for Arizona's monsoon season and (More 2020 Monsoon Details here)
Phoenicians look forward to monsoon with the eagerness of NASCAR-goers awaiting a car crash. There's beauty in the destructive power of the unpredictable storms in this season. Two of my brothers who now live out of state plan visits during the annual monsoon season to satisfy a nostalgic craving for the theatrics of mile-high walls of dust, fierce lightning, and flash flooding, along with the thrill of waiting to see how much force nature will unleash. Just last night, the first of these cracked open the skies with an impressive lightning show, rain, and microbursts of wind. I had dinner with a friend and stopped for a second leaving the restaurant to take in the gorgeous yet ominous sunset with a storm looming in the distance, and then got in my car and thought nothing of it. I made it home before even the air stirred. As soon as I was home, I got a message from my friend whose house apparently was in the path of a microburst while we were at dinner. The message said, "OMG, the pool! It's brown and there's half a tree in it!".
As homeowners, members of our community associations, or as managers of associations, there are important measures we can take to prevent, prepare for, and deal with storm damage:


Thinning out trees before major storms hit makes for less debris to clean up and the reduced drag could reduce the number of snapped branches or fallen trees that could cause damage (think half a large tree in my friend's pool). Board Members and Managers should schedule pruning, debris removal, and other major landscaping before monsoon season to help minimize damage to common areas and possibly homeowner property. My community schedules tree trimming for early June each year.


In the process of association preparations, it is important to communicate with community members. Use communication tools such as eBlast and homeowner portals [insert shameless plug for eUnify] to notify homeowners of work being done to common areas. When my community trims common area trees, we send out an eBlast and homeowners can use the eUnify "Resident Request" function in the CommunityLink portal to opt-in and have trees on their lots trimmed at the same time; the HOA Board facilitates the trimming and then invoices the homeowners who opted in. Telling your community members what steps you're taking to prepare for seasonal weather is at least a good reminder to consider doing the same. Reports of flooding, fallen trees, or other dangerous post-storm conditions can be posted to portal sites and sent via SMS (text) eBlast, or even push notifications in the eUnify CommunityLink mobile app.


After a storm has passed, you might find yourself needing to schedule landscapers and other vendors to help in clean-up and repair efforts. eUnify has the full toolbox for this job: vendor management, work order capture and tracking, vendor portals, common area and asset tracking, and mobile apps combine in a single solution.
This is one of my favorite times of the year. I enjoy the dramatic spectacle of Arizona's monsoon season. While it's a headache for me dealing with the aftermath as a Board Member for my association, I'm glad we have all the tools we need from eUnify in one efficient package to get the work done.
Tags: eUnify HOA HOA Board work orders portals HOA Landscaping vendor portal community link summer