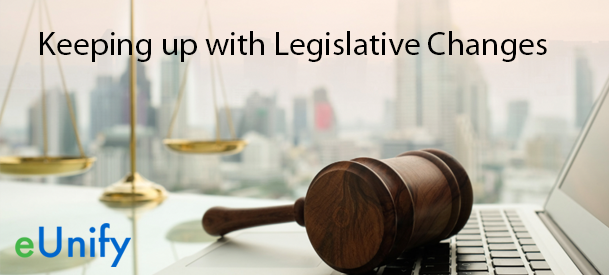 State legislatures have been busy this year with changes in the law that have direct impacts on our industry. We don't have space here to consider every state, so be sure to speak to your association's attorney about any changes that impact your processes. Let's review a sampling of some new laws in a few states where community associations are more common than not, and how eUnify can help you meet new requirements:
Arizona

Garnishments
HB 2170: Amendment to Arizona's garnishment statutes, which provides for garnishment as the legal remedy for collecting a personal judgment against a homeowner who fails to pay the judgment voluntarily.
This new law allows associations to request incurred attorneys' fees for the garnishment, as long as those fees are allowed by the judgment or contract. In passing this bill, the Arizona legislature acknowledged that the costs to enforce a court judgment against a judgment debtor rightly belongs on the judgment debtor, not on the judgment creditor.
eUnify: Keep track of attorney fees and costs on homeowner ledgers. See if your attorney is able to integrate eUnify ledgers (law firms using appLega for collections case management).
Account Statements
SB 1531: Since January 1, 2020, associations must provide a "statement of account" in lieu of a periodic payment book to an owner with the same frequency that assessments are provided for in the declaration. The statement of account must include the current account balance due and the immediately preceding ledger history. If the association offers the statement of account by electronic means, an owner may opt to receive the statement electronically.
eUnify: Ledgers are easily kept up to date using automated recurring charges, posting of fines based on violation letter processing, and even integration with attorney ledgers. The built-in accounting system in uManage allows for generation of account statements in batches and sending these hard copy through and integrated mailing vendor (or printed in-house) and via email.
Pending Changes
Short-term Vacation Rentals: Failed bills introduced this year are likely to resurface in 2022 to address issues with short-term rentals. Registration with the county or municipality, restriction on the number of adult occupants, and a requirement for liability insurance for the property owner are all under consideration.
Membership Percentage to Change Declaration: Repeat bills, designed to revise the percentage of voting members required to change the association's declaration under the Condominium Act, are expected to make another appearance. If passed, these will reduce the requirement from a super-majority 67% to a simple majority of 50% or more.
Flags: The Legislature will review and revise the types of flags deemed acceptable for display in planned developments.
eUnify: Track violations, including those for occupancy/use and store tenant contact information, which the law allows for Arizona planned communities to collect. Use the e-Voting module to conduct elections online and make sure quorum requirements under the proposed law are met.
Florida
Lien Notice
Section 718.121, Florida Statutes: Senate Bill 630 has amended Section 718.121, Florida Statutes, which governs condominium association liens. Under the amended form of Section 718.121, notice of an association's intent to file a lien against a condominium unit owner is deemed to have been delivered upon mailing. The amended form also added certain dates that condominium associations must include on the notice. These dates include the due dates for maintenance, the dates during which interest accrued, and the dates of certified mail charges.
eUnify: Use the Delinquency module to comply with this amendment. Customize your delinquency workflow to send all required notices and get the timing right when sending accounts to the attorney for collection. Be sure to include language required by the law in the fully customizable Word letter template. Use the integrated mailing vendor to send notices via certified mail and gain the benefit of online tracking and uploaded signature files upon delivery.
Websites and Documents
Section 718.111(12)(g), Florida Statutes: Allows for condominiums with 150 or more units to keep required documents on mobile applications that can be downloaded to a mobile device, in lieu of or in addition to keeping them on the association's website. This is a permissive change, so condominium associations can use their discretion in deciding whether to keep documents on a mobile app in lieu of or in addition to the association website. It's been a few years since Florida required condominium associations and planned communities to maintain an online presence with certain required content. This amendment updates such requirements to allow for required documents to be accessible via mobile applications.
eUnify: Use the CommunityLink portal to house all association documents, which can be organized into folders with folder and document level permission settings. Maintain other association content in this easy to use secure platform, linked to homeowner accounts in uManage. CommunityLink has a new mobile-responsive skin, and is also available as a mobile app for Apple and Android devices.
Texas
Architectural Review Process
Texas Property Code Section 209.00505 (added by Senate Bill 1588): Imposes new rules on the denial of an application by an architectural committee and creates a procedure for appealing such a denial to the association's board of directors. Also restricts members of the association's board of directors, and their spouses and household members, from serving on the architectural committee. This provision took effect on September 1, 2021.
eUnify: uManage is designed for Board of Director and Architectural Committee assignments to be made independent of one another. In many associations there is overlap in these two bodies, but the system allows for independent assignments, with attendant notifications and permissions to review and vote on plans online.
Vendor Proposals (RFP)
Texas Property Code Section 209.0052 (amended by Senate Bill 1588): Amendment to code governing the procedure for approving contracts by property owners associations, which requires property owners associations looking to contract for services that will cost more than $50,000 to solicit bids or proposals using a bid process established by the property owners association. This provision took effect on September 1, 2021.
eUnify: The RFP (Request for Proposal) module in uManage allows you to create an online request for vendors to submit proposals. Set up your project with documents, plans, and a detailed scope of work. Vendors included in the request will have online access through an emailed link to review the project and upload their proposals. Once a winning bid is selected, the vendor may be awarded the contract through the same RFP module.
Tenant Information
Texas Property Code Section 209.016 (amended by Senate Bill 1588): Amended code which no longer requires redaction of sensitive personal information of a tenant from a lease agreement and authorizes a property owners association to require property owners who lease their property to submit to the property owners association contact information, including the name, mailing address, phone number, and e-mail address, of each person who will reside at a property under a lease and the commencement date and term of the lease. This provision took effect on September 1, 2021.
eUnify: Tenants are a class of contacts related to accounts in uManage. You can save tenant names, mailing addresses, phone numbers, email addresses, and even upload copies of the lease agreement, as well as entering lease start and end dates. All of this information is available in system reports. For most communities, it is important to know who the tenants are in leased units for emergency and other contact. uManage makes it easy to store this information and contact tenants when necessary.
2022 Forecast
A slew of legislative changes with respect to the governance and administration of community associations across the nation is all but guaranteed each year. It's important to make use of resources, such as the association's attorney, to stay ahead of these changes. It's also important to use the right software programs for administering your communities. You need a software vendor who acts like a partner and who is committed to adapting to the changing landscape with you. Contact eUnify today to learn more about our flexible systems and ongoing commitment to perpetual improvement.