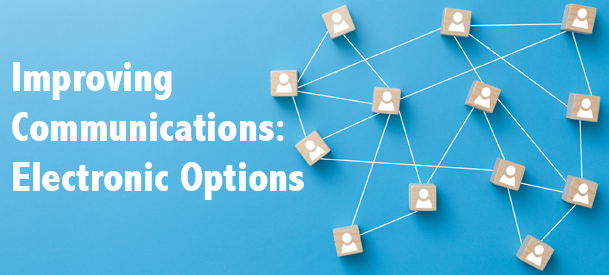 Recently, one of the homeowners in my community, for which I serve as the President of the Board of Directors, took the liberty of drafting a lengthy, somewhat accusatory letter with an overall theme of "what is the Board doing for you?" and taping paper copies to all homes in the association, except for mine, of course. The underlying assumption of the letter is the Board is either doing nothing or operating in the dark. The incident has me thinking how we can improve communications all around. There are many tools available to us, since we are lucky enough to have a management company that uses eUnify, but I don't think we are making full use of these tools yet…are you? For our Manager users and the Boards they serve, here's a quick checklist of electronic communication tools available to you in uManage and the CommunityLink portal.
eBlast - This is probably the most used mass communication tool, and we've covered it in previous posts. uManage contains an eBlast function that allows you to send mass emails to members of the community. You can send to all, or a select list, format text as rich text, and include attachments. This is a great way to get newsletters out or important messages regarding maintenance activities on amenities.
CommunityLink Portal – This electronic communication option is a great way to provide information in a secure space for homeowners to consume at their convenience. Whereas eBlasts are active communications, think of the portal as a passive environment where homeowners can visit to check on announcements, look up meeting minutes, newsletters, CC&Rs, and other posted documents, and check on their account balance, status on an architectural request, or see if there are active violations on their account.
Board Portal – Nested within the CommunityLink portal is a designated Board Portal. Enabling this is optional for managers, and requires a little setup, so if you are an eUnify customer currently offering portals to the associations you manage, please contact us if you are interested in enabling the Board Portal. Board Members love the Board Portal because it provides a dashboard view of management activities in the association. For example, the dashboard shows YTD metrics on budgets, delinquencies, architectural review, and violation activities. The Board Portal is a self-service environment for Board Members to see current status and results of management's hard work, and helps answer the question some Boards might ask, "what is management doing for us?". Enabling the Board Portal provides transparency. Get ahead of false perceptions that work is going undone or suspiciously being done in the dark by allowing your Boards to see activity statuses and reports in real time.
Board Packets – uManage includes a function whereby regular meeting packets can be generated by combining a cover letter, uploaded PDF documents, such as an agenda, previous meeting minutes, etc., and system-generated financial and activity reports. Board Packets can be posted to the Board Portal and help management present a professional image to their association clients while providing necessary information in a convenient format that saves everyone time.
ARC and Vio Letters via Email – Did you know that each of the action items in your architectural and violation workflows can be set to send emails to homeowners and other designated recipients? In my community, we have set all our violation letters to send emails with PDF copies of the letters attached. We still send out hard copies to comply with statutes, but the email option is free to use and usually gets a much quicker response.
There are even more electronic communications options in the works at eUnify. Stay tuned for some exciting new features and reach out to us if you need assistance making better use of any of the great features listed above.
Tags: Software Community communication