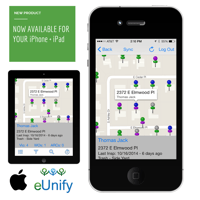 Entering Violation on your iPhone or iPad is now easier than ever with uManage. Download the uManage mobile app for property management and HOA violations from the Apple App Store. Addionally you want to make sure you mobile app has Speed, Accuracy, Efficiency, Standardization, Automation and is Convenient.





STEP 1: Open Mobile App Onsite + Select Association
Login with user credentials (same as desktop site) to access properties. *GPS should be enabled for the app to function properly. Tap the name of an association to select.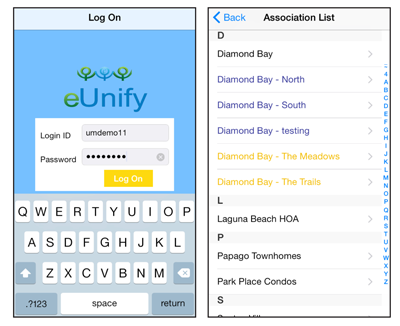 *requires 2 Taps*


Step 2: Select a Subject Property
All homeowner accounts in the association load as color-coded pins on the map. The circle portion of the pin indicates HOA violations; purple for open violations, green for no open violations on the account. Alternative colors may be set by an admin user to correspond to possible locations of violations on property, such as the driveway, or side yard.
Tap the map pin for the desired subject property to view summary violation and inspection information.
Tap the "Violations" button to view all violations for the property.
Tap the up arrow button at far right in the navigation bar at bottom to open a menu to view, "Account Info", "Transactions", "Violations", "Work Orders", and "ARC Requests".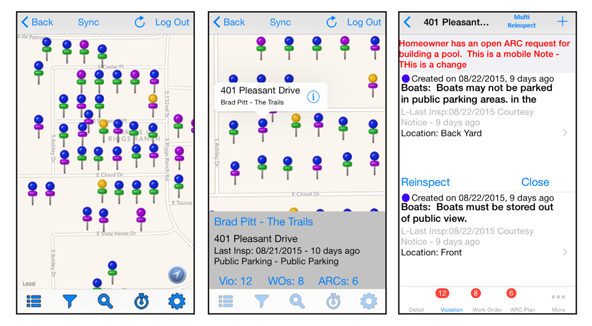 *requires 3 Taps*

Step 3: Add a New Violation
Tap either the "Violations" button on the gray summary info section on the property map view or the "Violations" option in the popup window from the up arrow icon to access the violations page.
On the violations page, tap the "+" icon
Tap to select the type, sub-type, location and letter for the violation
Tap the camera icon to take a photo of the violation
Tap the speaker icon to capture audio notes;
Tap "Save" to record the violation.
Violations are saved locally to the device, so inspections can be completed even without data connection. Violations are automatically synced with server every minute.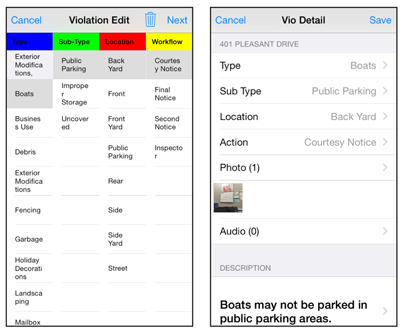 *requires 2-4 Taps*
To learn more about HOA violation and uManage download the guide today.