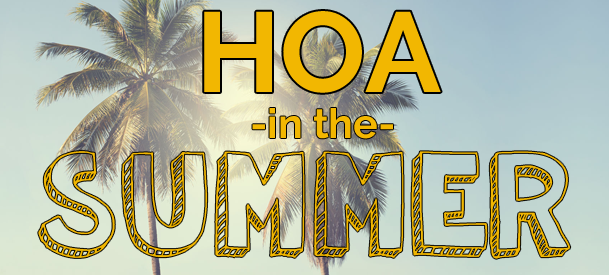 Summer is finally here! However, summer might look a little different this year because of the current status of COVID-19. We STILL need to make sure our HOAs stay cool and safe in the upcoming summer months, especially as parts of the country start to reopen. Whether it's the safety of children or pets or even complying with HOA rules and regulations, here are 5 good classic summer HOA blogs (that might need slight modification depending on where you live). Click on the titles to read more.



The sunniest months are upon us, the kids are out of school, and summer fun is in full swing! This is the perfect opportunity for board members to build community relationships. While summer is a popular time for swimming and dive-in movies, not all homeowners take advantage of outdoor amenities, and not all associations have them. Because sometimes it's better to stay cool indoors, we're presenting some fun alternatives for summer HOA social events

With summer here, now is the time to begin taking the necessary safety precautions for residents of your HOA. Some of these tips might depend on the types of property and the current services provided, but with the increased temperatures and reliance on air conditioning, here are a few of the most important summer safety tips for your HOA residents

If your HOA allows pets, as summer approaches, it's a good idea to remind those in your community about ways to keep pets safe during the hotter months. Summers can be tough on pets, and the higher heat can get to them. Read this blog for tips to make sure pets stay comfortable and safe during the higher temperatures.



School's out for summer! What will your children do this summer? How will you make sure that they are safe in your homeowners association? This blog has great tips to keep you and your family safe this summer.



HOA boards and residents need to anticipate and avoid common pitfalls and controversies that can arise as we spend time outdoors during the summer. This blog has some important tips to keep in mind.


Tags: Property Management Community HOA