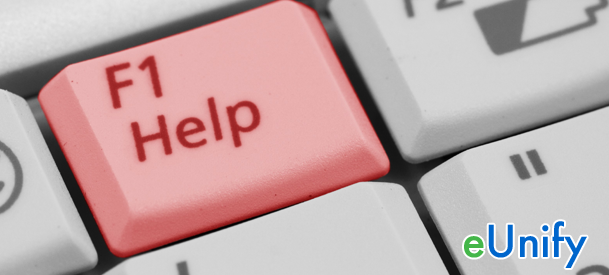 As a member of the eUnify Support Team, I field all types of customer calls and emails to help assist you with using uManage and other eUnify products.
Part of our day is spent creating new help materials, which are available online through the eUnify Freshdesk site. These include page-level help articles, FAQs, and walkthroughs of certain features in uManage or its related apps. Here are a few frequently asked questions:
Are there any help materials for uManage?
Yes! A lot of the pages in uManage have a "Help" button that links directly to relevant page-level articles. Pages with this kind of content have this button in the upper-right corner:

You can also go to eunify.freshdesk.com and then scroll down to view all available help articles.
What's the best way to contact the eUnify support team if I have an issue?
Email: ticket@eunify.net. This is the best way to contact us because it preserves visibility by all team members by creating a unique ticket in a dedicated ticketing system and generates a notification to everyone on the support team.
Or you can call: 480-802-4284 as our direct line to our support team.
What should I include in my ticket to support team? What helps you guys the most?
A screenshot is extremely helpful. If you can take one either on the page you're on where the issue is taking place or of the error message you're getting, that helps us zero in on the issue. Most current machines have a snipping tool program built-in to take a specific screenshot if needed (Windows has the Snipping Tool app on Windows 10 and later, while on Mac you can take one with Command + Shift + 4).
Describe and provide details of what page you were on and what you were trying to do. Please try to explain what's going on with as many details as you can.
Provide account numbers or unit addresses; you don't have to provide all of them, but a few are very helpful as examples.
To learn more about our products and features don't hesitate to reach out to us and be sure to download the free eBook below to see how you can work remotely with eUnify.
Tags: uManage eUnify Team support