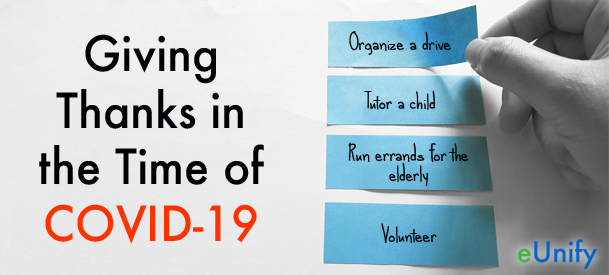 Gratitude might not be the first place our minds go in 2020, but there is still much to be thankful for. Traditional holiday celebrations and gatherings may be altered or canceled altogether, but we can celebrate and give thanks, even in a time of suffering, by giving back to our communities. There is so much need by members of our communities created by the pandemic. Whether its social isolation, stresses of homeschooling, canceled plans, job loss, or loss of a loved one, we all have people in our lives who are in in need. Each of us is likely experiencing pain in some way and the way to heal is to help others. Here are some ideas to be someone others are thankful for:
Organize a drive:
I firmly believe that most people are good and far more generous than you would expect, they just need someone to take the lead and give them an opportunity to contribute. A friend of mine recently conducted a shoe drive to benefit veterans in honor of her brother. A simple post on social media about the cause and a challenge to fill the back of her SUV with new and gently used shoes and socks resulted in a total outpouring of contributions that easily filled the SUV several times over. With the money donations, she was able to buy steel-toe work boots, the number one request from shelters, as many blue-collar jobs require the protective footwear.
With Thanksgiving just over a week away, now is a good time to collect food items and cash donations to benefit local food pantries. It is estimated that over 50 million Americans have been or will be food insecure this year alone. Food pantries can use all the help they can get. Clear out some of the inventory you built up when everyone was panic-buying months ago to provide a meal to someone who may have lost their job or a parent.
Tutor a child:
Kids all over the country have suffered through school closures and trying to learn their lessons at home. Many parents are stretched thin taking on the extra work of teaching subject matter they might not be versed in. If there are school-aged children in your family, see if you can step in and help with tutoring either remotely or in person and distanced. If nothing else, the kids will probably welcome a change in routine and appreciate that someone outside the four walls of their home cares about them too.
Run errands for the elderly
If you have elderly neighbors, drop a letter off with your contact information clearly written and sincere offer to assist in grocery runs and other common errands. The science is clear that the elderly are at far greater risk when it comes to COVID, so picking up groceries, taking a package to the UPS Store, or stopping by the hardware store for odds and ends might actually be saving a life. If you are uncomfortable making the first approach, try organizing through your HOA board. Outreach from board members might make it easier for community members to trust and accept the offer of help.
Volunteer:
Instead of taking on the risk of large gatherings while virus case counts continue to climb, consider organizing family members to volunteer for a charity of your choice. There are many online resources to help you find group volunteering opportunities. Charitable organizations will have sensible protocols in place to help keep volunteers safe and some may need help with work that can be performed remotely. Extended family living in separate households can engage in the same activities at different times to enjoy the benefit of working with others for a meaningful cause while staying safe.