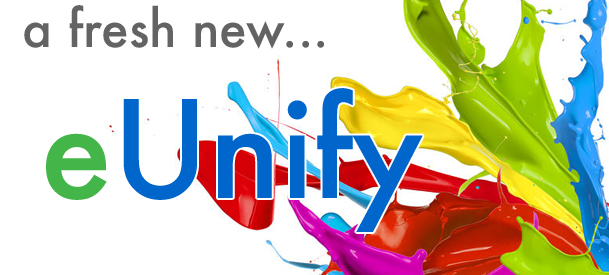 If you haven't heard of Marie Kondo, you aren't watching enough Netflix. Marie is an incredibly successful organization consultant, helping hoarders ditch the clutter. She's become a cultural phenomenon with her Netflix series so much so that her name has become a verb synonymous with decluttering in popular vernacular, as in, "I spent the whole weekend Marie Kondoing my garage", or "I had to Marie Kondo the guest room before my parents visited". While in no way inspired by the series or Marie Kondo's philosophy of only retaining possessions that "spark joy", eUnify has been busy with a refresh of its own. Part of this effort is evident in the clean new eUnify website, found at www.eUnify.net (check it out). Other parts might be less visible but have a huge impact on the value offer eUnify represents and on customer experience.
Our "Spring clean" effort is focused on living up to our name as a unifying force for the technology solutions you need. Here's a peek at some of what we've done to unify client needs into one package:
Accounting:
eUnify Accounting has been around long enough that it's no Spring chicken, but major enhancements have been made to this part of the uManage solution when it comes to reports and automated functions. Clients are flocking to our accounting as a full replacement of various industry titles. For years we took the "Everything but Accounting" approach, but we are confident and proud to say that we are now truly a "One Stop Shop" for community management software.
PropDocs:
eUnify has built a resale packet and closing documents platform called PropDocs. This versatile solution allows you to set up a list of products, such as "Governing Docs", or "Resale Packet", and set the price for each, along with rush delivery options and pricing. These products are maintained in uManage and available for realtors to order by registering on the www.propdocs.net website.
New Portals and Portal Management:
eUnify has a new Vendor Portal where vendors can log in and see all work orders assigned to them. They can add notes, mark work as completed, and even issue invoices through this portal. Managers add and track work orders in uManage. Notes and updates they make to work orders are visible to vendors in the Vendor Portal.
eUnify has also launched a mobile version of the homeowner portal called Community Link, which is available in the App Stores and on Google Play for free download. Homeowners can use the app to view the same information as in the homeowner portal, pay assessments online, and even receive push notifications from management.
eUnify has enhanced portal management tools available in uManage for a more consolidated approach to servicing the portals. One key new feature is the ability to review "Bad Emails" in uManage, which is a listing of any email that was either flagged as spam by the recipient or that bounced or otherwise failed to deliver. Emails sent from uManage or from the homeowner portal that are deemed "bad" appear on this page. Users now have greater control over the content available to Board Members in the Board Portal with menu item permissions that can be set in uManage, as well.
Timekeeping:
eUnify now offers timekeeping tools in uManage. These can be used to track employee time. Users can add time entries, complete with a type or category, date, time value, and description of work performed. Time entries can also be associated with phone calls, if using the 3CX or Skype for Business phone integrations. Reports for time entries help convey to association clients all the work you do for them.
aAccess and appLega Integration:
eUnify has built an access point for attorneys to lookup information related to delinquent accounts sent to them for collections. This easy to use portal tool, called aAccess, allows attorneys to see account information in real time. For attorneys using the appLega platform, eUnify offers direct integration to push files to the attorney for collection and enforcement activities, and will keep eUnify ledgers synced with attorney ledgers.
There's so much more that we've pulled together in our unified solution. Please contact us to schedule an online demo to learn more!