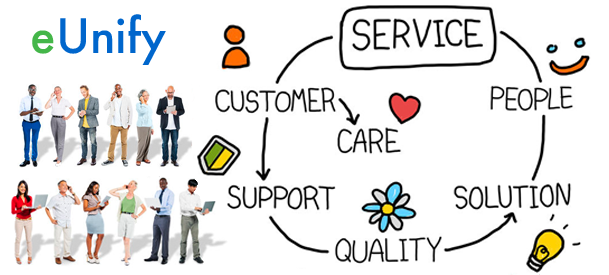 If you've chatted with us at a tradeshow, you've probably heard us say, "eUnify is a software shop", which means we are in the business of building software. We have focused on software development for the community association industry and are very proud of the systems we've built. While we've built a host of valuable functions in our all-in-one uManage platform, our customer support hasn't always kept pace with development efforts. eUnify is a software shop, but it is also in the business of customer service. We sincerely value our customers and want to show it by completely revamping the eUnify customer support effort. Here's a short list of what we've been up to when it comes to improving customer support:

Personnel:
We have restructured customer service into its own department and are excited to announce that Lisa Serra has formally joined the eUnify team as the Director of Customer Relations. Lisa joins eUnify with a professional background in IT consulting, which she is applying to building a team of support staff, formalizing procedures, and developing a library of support materials. Two new dedicated support team members will be joining us soon (go easy on them while they get up to speed!).

Procedures:
In order to help us make sure none of your questions, concerns, or requests slip through the cracks, we are formalizing our ticketing procedures. We have implemented a helpdesk ticketing platform and tied this into our office email client. We encourage all our customers to submit a ticket by emailing ticket@eUnify.net. This is strongly preferred over voicemail or direct email because not only will it ensure the fastest response from our support team, it will also help us document issues reported by customers and track progress on resolving them. Also, FAQ's are being compiled based on tickets submitted by customers.

Documentation:
Online page-level help is already available in uManage. However, this content is primarily available for pages related to accounting functions. We are building a library of FAQ's and content for page-level help for all pages and all functions in uManage. As this content is rolled out, each page with published help content will display a question-mark icon in blue at the top right of the page. Clicking this link will direct you to the relevant "Help" page, which also includes links to related FAQ's and a search function to lookup information on other help topics.
We are excited for all the changes involved as we revamp our customer support and will keep you posted on progress in this effort.
Tags: eUnify tradeshows eUnify Team support