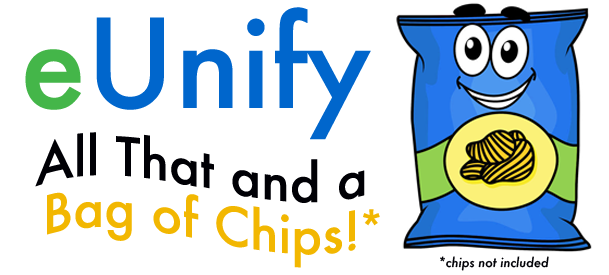 If you asked us in the past, "what is eUnify?", we always responded, "Everything but Accounting". We even trademarked that tagline. This past week at the Community Associations Institute Annual Conference and Exposition, we kicked off marketing of our full-featured accounting platform. I guess we need to update our tagline to "Everything (period).", "Everything AND Accounting", or maybe "All that and a bag of chips!" (chips not included). As much as we love phrases from the 90's, and chips, we settled on, "Complete Management Software", hoping the message is simple and clear: eUnify is the complete software package for all of your HOA management needs. What is eUnify? Answering in a bit more detail, eUnify is….
An Integration Partner
Now that we've rolled out our full-fledged accounting platform, I think it's important to emphasize our ongoing commitment to supporting our integration partners, including C3, Jenark, QuickBooks, Sage, TOPS, and VMS, and providing ongoing service to eUnify customers who enjoy the benefits of accounting integration. Our goal is to provide options. eUnify customers can make use of our one-stop option for accounting, management tools, and portals, or continue with one of our integration partners and tie into our management tools and/or portals. Software needs and preferences between the accounting department and portfolio managers often differ; our approach allows for accountants to continue their work in the integrated system of their choice, or consolidate accounting processes within eUnify. eUnify's accounting platform is an upgrade path and major timesaver for QuickBooks and Sage users with growing portfolios. eUnify also integrates with LetterStream to provide the convenience of outsourced mailing and appLega for easy transition of delinquencies to attorneys for collections.
A Management Platform
eUnify's management platform, called uManage, is a cloud-based system that offers capture and tracking of violations, work orders, and architectural requests. The system also includes powerful tools for managing vendors, creating RFP's, tracking homeowner information, such as vehicles, pets, and association-issued items (gate cards, key fobs, storage lockers, etc.), conducting online elections, sending eBlasts and mass mailings, and reporting to committees and board members.
An Accounting Platform
We built the accounting module right into uManage, so it's part of the homeowner database. The complete accounting package has everything needed to maintain homeowner accounts, invoice vendors, receive payments, and reconcile statements with these key functions:
AP/AR

General Ledger

Banking Integration

Check Printing

Delinquency Processing

Invoices

Lockbox Payment Integration

Reconciliation

Recurring Charges

Reporting

Statements and eStatements
A Portal Provider
eUnify Portals are a dynamic space for association documents, events, and announcements, and secure space for homeowners to access their accounts, make online payments, and view related management activity, such as violations and work orders. Homeowners can submit support tickets, pass requests, and architectural requests from the portal. Board members can view live reports and engage in online discussions with dedicated Board access. Architectural committee members can review and vote on plan submitted by homeowners. The eUnify Portal is also a mobile app. We will be releasing a mobile app version of the portal with all the same great features to the Apple App and Google Play Stores later this year.
An All-in-One Solution or A La Carte Option
We are an all-in-one solution, but we may not be a one-size-fits-all for every organization. eUnify has clients on all three components (Accounting, uManage, Portals), and others who pick and choose the parts that make the most sense for their operations. We are happy to tailor our offering with a flexible a la carte menu of modules and tiered pricing. Contact us to see which options work best for you.
Tags: uManage eUnify Accounting Integration hoa accounting portals