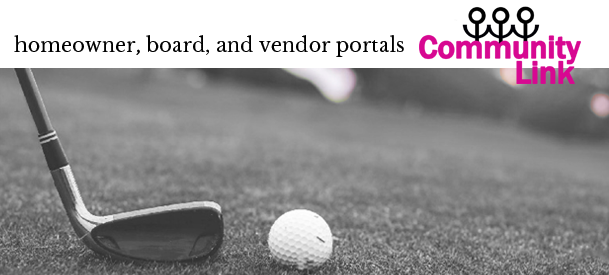 When it comes to portals, the idea is to build community. CommunityLink's relevant content and ease of access offers homeowners convenient participation in their community. As a manager or board member or vendor, you benefit by making basic functions and information accessible to residents on a self-serve basis, while providing a space where everyone in the community belongs. Learn more about each of our portals below.
Homeowner Portal:
Associations need an online presence. It's practical and smart to give homeowners online resources, and in some states, it's a legal requirement to post association content online. CommunityLink goes beyond these requirements by providing all residents 24/7 access to personal account and association info. The various tools in the CommunityLink portal display information unique to a homeowner's account and helpful community content. CommunityLink can be experienced from a web browser in a traditional portal site as well as an exciting new mobile app designed specifically for homeowners!
Vendor Portal:
Each vendor maintained in uManage can be given access to a unique vendor portal designed for easy lookup of assigned work orders. Vendors can add notes or mark work orders as completed, send invoices to the management company, update contact information, and upload 1099s and insurance documents. Updated phone numbers and email addresses and all uploaded documents sync with uManage to simplify vendor management. Each vendor can even customize the color scheme of their portal to match their company colors.
Board Portal:
Board members need special access to reports, financial data, account lookup, and management activities to fulfill their responsibilities. CommunityLink addresses these needs with dedicated Board functions built right into the CommunityLink portal. Board Members don't need separate login credentials to see this information, as access is a permission setting maintained by management in uManage. Some key features of the Board Portal include an interactive expense analyzer with graphic analysis of financials, live reporting for real-time visibility into management activities, Board Tasks assigned by managers to facilitate discussion on important business, and a map-view lookup of violations and architectural plans. A Client Activity Report function in uManage allows managers to compile a monthly Board packet, complete with reports, documents, and images for violations, work orders, architectural plans, and financials. The Client Activity Report published each month remains visible in the Board Portal indefinitely, so Board Members can look up history with ease.