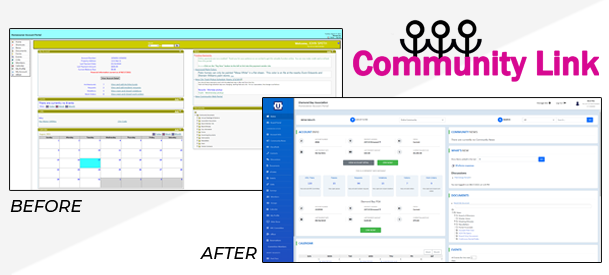 I had an idea of coming out of quarantine with a summer bod worthy of the first beach vacation in 18 months. This abstract goal of revamping my image proved more elusive than a daydream; turns out you actually have to work out to get fit. Fortunately, even while working remotely, and probably in "comfy clothes", and even failing at personal fitness goals, the eUnify team steadily plodded along with the kind of consistent effort I should have applied in working out. The net result is a slew of enhancements that set us apart. We'll be taking a closer look at some of these enhancements each month in future blog posts. Included in our steady effort toward perfecting our product is reworking our image when it comes to how homeowners interact with our browser-based and mobile app versions of the CommunityLink portal. Below are some of the updates we've made to CommunityLink.
CommunityLink in Your Browser:
Total Refresh:
The browser version of CommunityLink has a completely new look and feel, designed to be cleaner, easier to navigate, and more modern. Admins can manage some custom color and branding options, including menu base and rollover colors, space for your logo, and rich text announcements on the home page dashboard.
Tie-in w/ Accounting:
A tighter, exclusive link to eUnify accounting information allows for more robust financial information and reporting capabilities. Companies or associations using an external accounting system can use all other features and functions outside of financials in the newly redesigned portal, or tie in external financial info to the previous version of the portal.
Mobile Responsive:
The new browser version is designed to be mobile responsive, which automatically scales the interface for use on mobile phones and tablets as an alternate to the CommunityLink mobile app.
CommunityLink Mobile App:
Clean Design:
The mobile app version of CommunityLink for both Apple and Android devices has a new clean look with account balance and a "Pay Now" button in plain view at the top of the page upon login. The rest of the home page is comprised of easy-to-read tiles that link to the features and functions homeowners need. Each tile corresponds to a system function, such as lookup of account info, architectural plans, open violations, announcements, and documents.
Custom Tiles:
The new mobile app allows you to customize which tiles show for the community. Not every community has the same information to display or interact with, so we've made it easy for you to customize what to include in the homeowner mobile experience.
Day/Night Modes:
The mobile app responds to the day/night mode setting on your phone or tablet to display either in a bright daytime scheme, or a darker version to reduce harsh light when in night mode.
Branding:
The home page of the mobile app includes a full page width banner at the bottom of the screen to display your logo or other custom branding. Homeowners are reassured they are in the right place when they see your familiar logo as they navigate their account details.