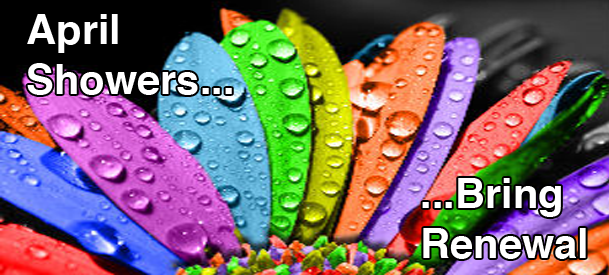 We all know the rhyme, "April showers bring May flowers". Taking a broader view, what April, and April showers bring is renewal. At this time of renewal, there are challenges for HOA management and opportunities with new software designed to meet those challenges.
Warming weather and the poetically promised May flowers also come with WEEDS and BUGS to deal with. For most associations, CC&R enforcement becomes a bigger task to take on during spring and summer months because of landscaping issues, play equipment, recreational vehicles, etc. Managers might become overwhelmed keeping track of violation letters and property inspections, especially without property management software tools to simplify the process, or maybe outdated/ineffective software. As managers or as HOA boards, renew your efforts to keep the community looking its best through CC&R enforcement made easy with the help of uManage, by eUnify.
The start of April also marks the end of the first fiscal quarter of the year, a time to assess costs and budgets. Software is likely a significant expense on the books and as such, it should be an investment with a significant return. Consider these questions as you review Q1 expenditures on software:
Does the current software pay for itself? Software ROI might be realized by its ability to eliminate manual efforts, make existing staff more efficient, or by replacing more expensive options.
Does the current software give you a marketing edge? Software can make you more competitive by offering time-saving features and functions, enhanced reporting for board members, or by offering valuable integration with other systems used by the firm.
Can multiple products be consolidated by switching software? eUnify takes the "everything but accounting" approach to property management, which means everything needed to manage HOA's is built into the eUnify platform. eUnify integrates with C3, Jenark, QuickBooks, Sage, and TOPS for accounting.