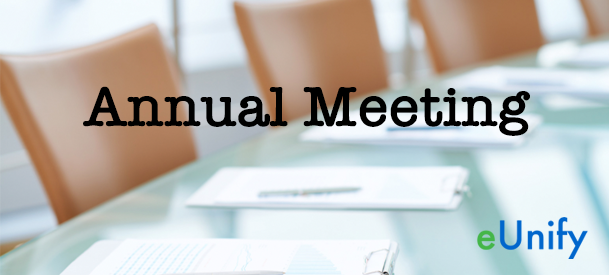 As the year draws to a close, many associations get ready to conduct an annual membership meeting. The purpose and procedure for conducting the annual meeting is typically spelled out in the association's bylaws, but it's important to make sure that state laws that supersede provisions in the bylaws are followed. It can be confusing deciphering what the law requires when it comes to the special annual meeting, different from the more frequent regular Board meeting. Just this past weekend I conducted the annual meeting for my association, so it's fresh on my mind. Here are a few things to consider as you prepare for the meeting, and some tips for holding a successful meeting. Where state laws are considered, I can only offer what I know to be true in Arizona; be sure to review statutes in your state and reach out to your community's attorney for guidance.

Frequency of Member Meeting
Most association bylaws require an annual meeting, and Arizona statute specifically requires a meeting of the members to be held at least once each year. Also, for planned communities and condominiums in Arizona, all meetings must be held in-state.
Meeting Notices
Hard copy meeting notices should be mailed to members, and email follow-ups are good idea to encourage interest and attendance. For associations in Arizona, such notices must be mailed no less than ten days but no more than fifty days before the meeting. The mailed notice needs to identify the date, time, and location of the meeting, as well as describe the purpose of the meeting. The notice we sent for our recent meeting explained the purpose to be the election of Board Members and an open comment forum for members to be heard.
Meeting Attendees
There are many tenanted homes in my community, so there is often the question of whether or not tenants can attend the annual meeting. Arizona law is clear in stating "all members of the Association or any person designated by a member in writing as the member's representative" should be allowed to attend. We only allow tenants who have been put forward in writing as the representative for the Lot, and the designated representative takes the place of the Lot owner at the meeting, either the representative or the owner attends. A designated representative may speak at appropriate times during the meeting. For large communities, keeping track of attendance can be difficult, especially with owner representatives in the mix, so some resort to photo identification during the sign-in process. If you will be requiring photo ID, be sure to make that clear in the notice(s) you send out.
Meeting Attendee Conduct
Since a large part of the meeting tends to be dedicated to open comments by attending members or their representatives, it's really important to make sure you communicate expectations in the meeting notice you mail out, and to reiterate these in any follow-up emails prior to the meeting. Before opening the comment or Q&A portion of the meeting, you might want to reiterate these ground rules to help maintain decorum. In Arizona, state law allows the Board to impose time restrictions on any person speaking at the meeting but requires allowing discussion on any agenda item before formal action is taken. We set a standard three-minute limit per member for all meetings, but do not enforce this strictly. Simply stating such a rule has been enough to keep attendees at any meeting mindful of time. Other rules of conduct we set forth include allowing only one person at a time to speak, both to maintain order and for practical notetaking purposes, and not committing to an immediate response or resolution to a homeowner concern.
Board Member Conduct
Board Members should listen and take note of comments made by other members at the meeting, but should not make promises about how concerns will be handled or formally conduct business around topics of discussion not explicitly on the agenda. Doing so not only sets a bad precedent for off-the-cuff decision making, but actually is against open meeting laws in some states. The Board Member or Manager presiding over the meeting should moderate the open comment forum to facilitate comments from as many members as possible who wish to comment, and to shut down any disrespectful or inappropriate commentary.
In the end, it's the duty of Board Members to listen to and handle open comments from the community. It isn't usually the best part of the job, but hearing members' concerns fosters a stronger sense of community. The open forum portion of the annual meeting is a great opportunity to spot residents who are passionate about the community. We have four empty seats on the Board in my association with recent moves and resignations, but three of the members who attended the annual meeting voiced interest in joining. Be sure to reread your bylaws, relevant state laws, and think about how you will engage with fellow community members at the upcoming annual meeting. Take advantage of the opportunity the meeting represents to build a better sense of community, hear homeowner concerns, and encourage members to become more involved in making the community a success.
Tags: HOA