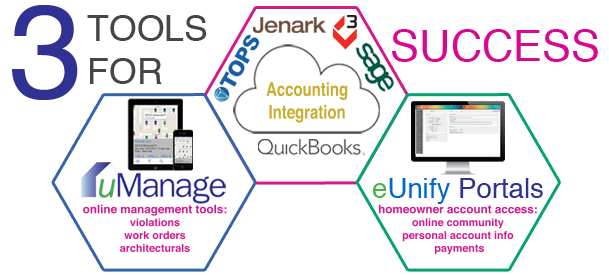 Finding new property management software can be challenging, you want to make sure that the new software will be able to integrate with platforms you are currently using. Integration enables systems to talk to each other. The Accounting System, Resident Portal, and uManage all TALK to each other.
Flow of Information:
ACCOUNTING > uManage > eUnify Resident Portal
Accounting System

: eUnify has accounting integration with a number of industry accounting titles, including C3, Jenark, QuickBooks, Sage, and TOPS.

If you are with a self-managed HOA, QuickBooks Online is a great choice!


e

Unify Resident Portal: eUnify's secure site that homeowners have login access to for viewing community announcements, documents, and events, and for viewing personal account information.

Make sure homeowners can pay online!


u

Manage

: eUnify's online operations platform that saves you time and money while tracking violations, work orders, and architectural requests.

A true mobile app that works even if you lose signal!

Integration between these three tools is the key to your success. Let your systems talk to each other and automate your processes.