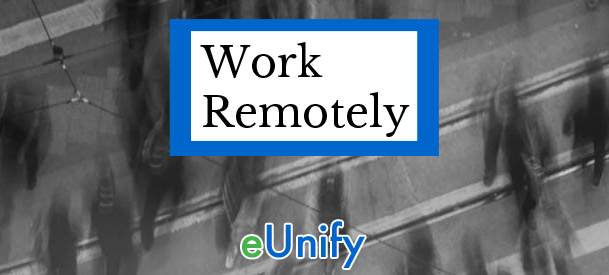 eUnify enables remote working. Terms we wouldn't have used much in the recent past are part of our everyday vocabulary. Terms like, "social distancing", "quarantine", and "flattening the curve" describe a social duty to keep distance from everyone outside our households in order to prevent the spread of the novel coronavirus. These terms also represent a massive challenge to many businesses. Major corporations have invested billions of dollars in the past several weeks in updating systems to allow for as many employees as possible to work from home. While eUnify didn't architect its platforms with a pandemic in mind, our products are designed for mobile management of your communities with some important features to help your teams stay productive in the current crisis.
01 Hosted Solution:
All of eUnify's systems are built on a multi-tenant, cloud-based architecture.


02 Mobile Apps:
eUnify offers a uManage mobile app for Apple and Android devices for easy capture and tracking of violations and lookup of account information.


03 3CX Integration:
One challenge with working from home is phones.


04 Outsourced Mail:
eUnify integrates with LetterStream to provide outsourced fulfillment of violation letters, architectural approvals/denials, mass mailings, and statements.


05 Built-in Security:
As a cloud-based software provider, eUnify takes security seriously.
As you confront the difficulties of combining home and work lives, eUnify is here to help you stay connected and productive. Learn more about our products and features. Download the free eBook below.