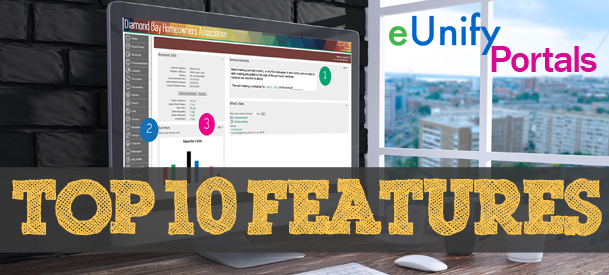 Associations need an online presence. New laws in some states even require online posting of content, such as governing documents. Portals exceed these basic needs with secure user access and customized content. eUnify Portals give homeowners access to personal account and association info. Whether you want to find a babysitter, sell a lawnmower, get a recommendation on an electrician, or find the date and time of the next board meeting, Portals become the cornerstone for community communication and social interaction. Here are the TOP 10 features you will want in your HOA Portal:


1. Online Payments
Homeonwers have the convenience of viewing their account balance and paying dues online


2. Online Voting
Conduct board elections or gather feedback from the community on important topics with surveys


3. Mobile App
Access your personal and community information on the go!


4. 'eBlast'
This feature engages community residents electronically with message intended for a specific or general audience


5. Calendar/Events
Personal, community or group calendar, residents want it all. Stay up-to-date with community happenings or create new events


6. eForms
Configurable electronic forms sent to the association or management company to quickly gather information


7. Announcements
Homeowners read important news and information about the community or prominently displayed announcements marked as "must read"


8. Reservations
Reserve the community amenities such as tennis courts, clubhouse, etc. with this feature


9. Documents
Files are uploaded here such as CC&R, community information


10. Directory
Maintain a community directur with full search capabilties of board memebers, residents and service providers