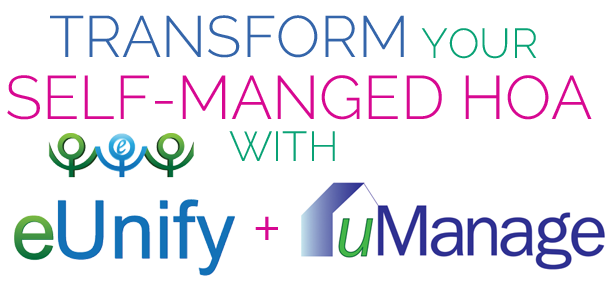 I became a board member of my HOA two years ago, not quite sure what I was getting myself into. All I knew is that I wanted to improve my community, the board had open seats, and I had a few architectural requests that could use favorable votes. Two years later, the board has transformed its operations by adopting
uManage to keep track of activities and crack down on persistent compliance issues,
and has set up an
eUnify resident portal to take online payments and facilitate communication with homeowners.
Our community is not professionally managed, which allows our monthly assessments to be rather low, but that means more work for the board. The association is small, and all activities previously were tracked via pen and paper. That system seemed to work fine, but was consuming valuable personal time from each board member. I knew going in that being part of a self-managed HOA board meant I couldn't be entirely selfish with my time, but thought the eUnify product suite could make us much more efficient. Board members are volunteers, so saving time is important. Here are some of the ways that uManage and our resident portal from eUnify have saved us time:
Resident Self-Service:
With the
eUnify resident portal
pulling QuickBooks account data, residents log in, see their balance, and make payment online directly in the portal. We no longer get phone calls or emails about CC&R's, since all community documents are available on the portal site. Residents can also reserve our community tennis court or pool ramada without having to contact board members.
Compliance:
My board is comprised of me and a fun group of ladies
who learned the uManage mobile app over mimosas one Sunday morning.
Now our compliance process is easy, and almost fully automated. We still like to edit and review letters before sending, but we take advantage of fulfillment integration, which means letters are printed, stuffed, and mailed by an integrated vendor and received by residents in 1-2 days without much more than a mouse-click.
Reports:
We all receive report subscriptions about violations and work orders open in the community at the end of each month and can produce comprehensive reports on these activities, as well as our postage spend when needed for board meetings.


Software has helped to take back some of the "self" in "self-managed".