To close out 2015, lets look back at some of the top blog posts of the year.
Now We're Talking.... Accounting Integration II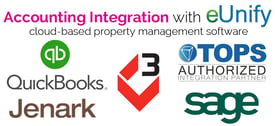 Finding new property management software can be challenging, you want to make sure that the new software will be able to integrate with platforms you are currently using. Integration saves you time and the need for duplicate data entry, so confirming cross-platform compatibility is an important point in the shopping process. eUnify integrates with C3, Jenark, Quickbooks, Sage and TOPS.
Website vs. Portal - Do You Know the Difference Between the Two?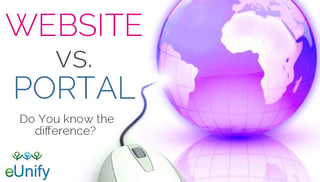 Sometimes the terms "website" and "portal" are used interchangeably, and the usage isn't entirely inaccurate but do you really know the difference between website vs portal? By definition, a website is a location on the internet that is unique and which is accessed via a web browser using a specific URL (web address). Portals are also accessed via a web browser and specific URL, but content is login protected and user-specific.


Social Media for HOA's and Management Companies Guide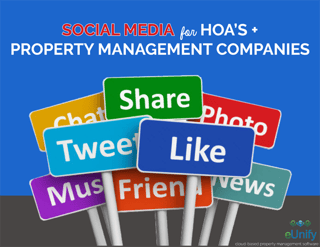 Chances are, in addition to a website, your HOA or Property Management Company uses and/or participates in some form of social networking. Whether it is Twitter, Facebook or YouTube, social media is a great way to share information as well as build an active online community. Social media can be used to remind members about upcoming board meetings and other community events, open discussion forums for planned maintenance projects, or gather feedback from residents regarding community topics.
Everything You Need To Know About HOA Violations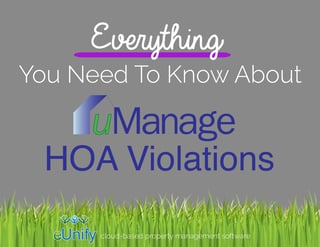 uManage is a complete cloud-based GPS-enabled property management solution that helps property managers handle all association-related activities. It will transform the way you approach HOA Violations. A powerful mobile application for smart phones and tablet devices will help make hoa property management more efficient and managers truly mobile.

Security Savvy 101: Keep Your HOA and Property Mgmt Data Safe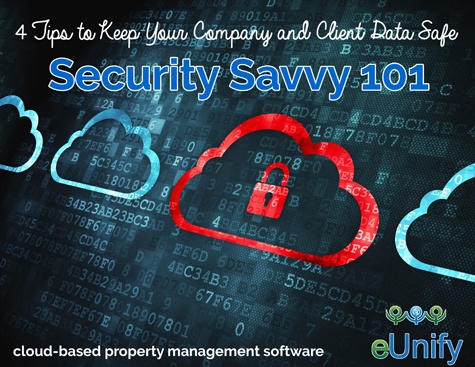 The need for convenience and efficiency in accomplishing core property management functions should not come at the price of security. No one wants to be the next "big box" chain to compromise their HOA client data. Consider these 4 tips to keep your company and client data safe when purchasing property management software >
Everything You Need To Know About Community Resident Portals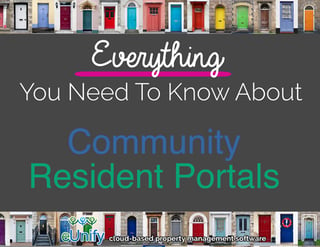 Whether you want to find a babysitter, sell a lawnmower, get a recommendation on an electrician, or find the date and time of the next board meeting, resident web portals become the cornerstone for community communication and social interaction. Here are 10 features HOA property management will want your community resident portal to have >

6 Benefits of the Cloud for Property Management + HOAs

Cloud computing is no longer the future, it's a convenient reality and if you're not using it for your HOA, you could be missing out on some valuable and handy features. Cloud-based software options are available for just about every function your HOA needs to accomplish, from accounting and online payments, to CC&R enforcement and communicating with residents.
eUnify wishes you peace in the 2016, Happy New Year!